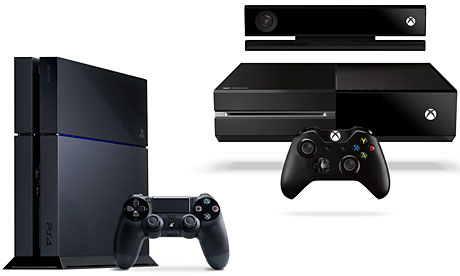 بعد إطلاق سوني لجهازها PlayStation4 الجمعة قبل الماضية وإطلاق مايكروسوفت لجهازها XboxOne الجمعة الماضية، أصبح المستخدم في حيرة من أمره أيهما يقتني، هنا بعض خصائص الجهازين العتادية للمقارنة:
PlayStation 4 specification
CPU: Number of Cores/Threads: 8/8, Frequency: speculated to be running a base clock speed of 1.6 Ghz on a 2.75 Ghz capable chip
Shared L2 Cache: 2 x 2 MB, Manufacturing Process: 28 nm, Custom CPU for background processing such as downloading and recording gameplay.
GPU: AMD next-generation Radeon based graphics engine, Peak Shader Throughput: 69.420 TFLOPS, GPU Cores: 1152
Memory: 8GB GDDR5, Frequency: 5500 MHz, System Memory Bus: 256-bit, System Memory Bandwidth: 176.0 GB/s
Storage size: 500GB hard disk drive, user removable
External dimensions: Approximately 275 x 53 x 305 mm
Mass: Approx 2.8 kg (6.2 lb)
BD/DVD drive (read only): BD x 6 CAV, DVD x 8 CAV, Blu-ray and DVD playback, no audio CD support
Input/Output: Super-Speed USBx (USB 3.0) port x2, AUX port x1
Networking: Ethernet x1, IEEE 802.11b/g/n, Bluetooth 2.1+EDR
AV output: HDMI out port, digital out optical port. SD output is supported for lower-resolution displays. HD output at 720p, 1080p and 1080i.
Included Peripherals: PlayStation 4 system x1, Wireless controller (DualShock 4) x1, Mono headset x1, AC power cord x1, HDMI cable x1, USB cable x1
Stereoscopic Output: Hardware supported
Xbox One specification
Optical Drive: Blu-Ray/DVD [1]
Game DVR: Yes, Upload Studio[2]
HDCP Encryption: No for games
RAM: 8GB DDR3 + 32MB eSRAM embedded memory, Flash Memory: 8GB Flash Memory
CPU: 8 Core AMD custom CPU, Frequency: 1.75 GHz, GPU Clock Speed 853 MHz GPU(originally 800 MHz)
Storage: 500 GB Hard Drive, External Hard Drive
Second Screen: SmartGlass App on Android, iOS, Windows Phone and Windows 8
Cloud Storage: Yes, Free Unlimited
Mandatory Game Installs: Yes
Required Internet Connection: After Day One patch, No
Used Game Fee: No
Backwards Compatibility:  None
Cross Game Chat: Skype, Party Chat
Motion Control: Kinect 2
Voice Commands: Yes
Subscription Service: Xbox Live Required for Online Play
USB: USB 3.0
Live Streaming: Yes, With Twitch
Reputation Preservation: Achievements will be ported
Web Connection: Gigabit Ethernet, WiFi, Wifi Direct Built-in (A/B/G/N dual-band at 2.4ghz and 5ghz)
A/V Hookups: HDMI input and output (4K support)
API : DirectX 11.2
Mouse and Keyboard Support : Possible Support in the Future